Located only 600' south of St. Vincent, Young Island is covered with dense foliage surrounded with Caribbean waters and reefs. Yachts and colorful power boats float nearby in a protected channel.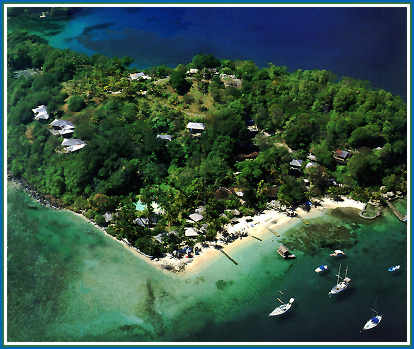 When viewed from above, guest cottages seem to have been dropped from the sky down into flowering jungles and along shorelines of this 35 acre private island.

When viewed from St. Vincent, Young Island dramatically rises from the ocean to 150' above sea level. Two sides have cliffs plunging into the sea, and the north side facing St. Vincent steeply slopes to the beach and waterfront dock area.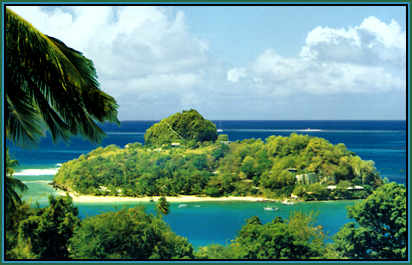 We arrived at the St. Vincent airport and were quickly through immigration and customs. Young Island sent a taxi driver to meet us and within a few minutes we arrived at the dock to board the cute resort ferry. It has been described as an "African Queen" boat, but as you can see below, is much prettier and only SOUNDS like the African Queen as it pops and putters along to deposit you at the island pier.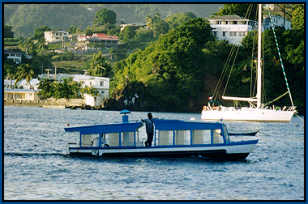 A gracious staff member greeted us with welcome drinks and escorted us to our cottage while giving us a tour of the main resort area. We first walked along colorful pathways connecting the beachside bar and dining areas.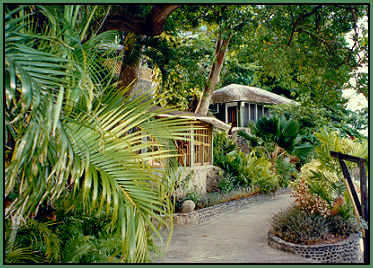 As you can see, the resort has tropical architecture, adding to the "island" experience. We then walked up stone steps to reach our hillside room. Palms, tropical vines, flowering plants, birds, and tiny lizards of every sort and kind surrounded us. Resort manager, Bianca Williams Porter stopped on the path long enough for me to snap a photo.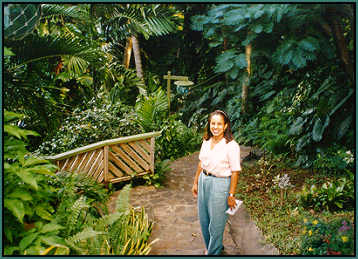 After settling into our room, we explored the island starting with a stop at the bar for a couple of pina coladas and a place to start unwinding from our long trip. Young Island has a large lounge area with comfortable tropical furniture, all surrounded with flowering foliage.



We wandered to the outdoor sitting area in front of the bar to watch sailboats and windsurfers floating by. The bar and main resort complex faces the south side of St. Vincent which is dotted with large hillside homes.



We also spied Young Island's popular swim up refreshment center, called the "Coconut Bar" - a great place to visit after a few hours of sunbathing. It's only a few strokes away from the resort.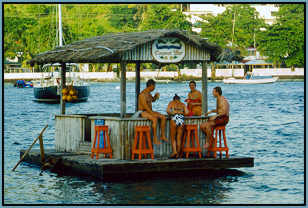 Young Island's long white sand beach has thatched huts with hammocks and plenty of lounge chairs. Guests can snorkel nearby reefs, sail a sunfish, and windsurf. Most were just lounging around enjoying the wonderful atmosphere!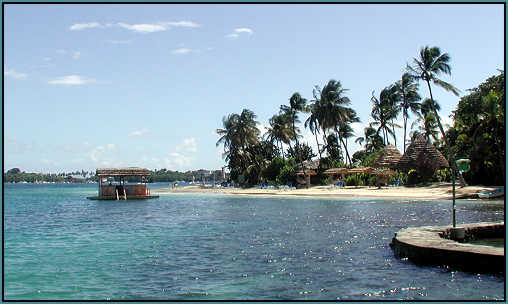 A lobster and fish pond, edge shown at the right in the photo above, holds lobsters in season (October to May), and tropical fish. We found a whole family of Trunk Fish swimming in it - some of my favorites that we often see while diving. They are very shy and uniquely triangular in shape.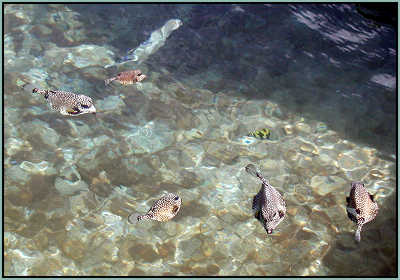 Leaving the beach area, we passed through gardens to reach the gorgeous saltwater pool which resembles a tropical lagoon. Several of the guest cottages are clustered around the pool - some have the beach on one side and the lagoon on the other. It's one of the prettiest areas I've seen anywhere in the Caribbean.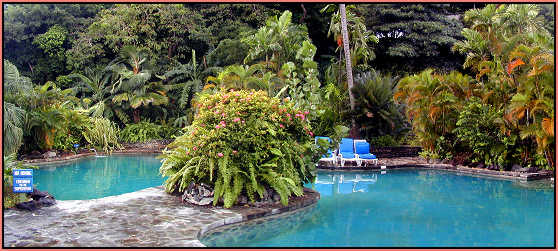 We walked up stone steps to the summit of the island. Tennis courts shaded by coconut palms are high on the hilltop and overlook the Caribbean Sea. Hiking trails give panoramic views of the Rock Fort and areas of St. Vincent in the distance. Several thatched gazebos placed along garden walks provide a place to relax and enjoy nature.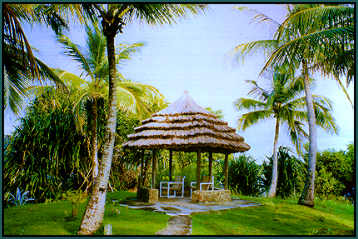 On our way back down to the beach, we found several sitting areas nestled in the jungle and perfectly placed to stop and savor the views. One of our favorites was about half-way down (or up, depending on which direction you are going) which gives a gorgeous view of Young Island's lower "jungle", the water, and St. Vincent.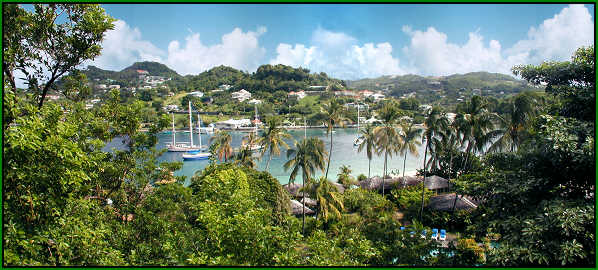 Scuba divers will be pleased about Young Island's arrangement with Dive St. Vincent which is located directly across the waterway at the resort's dock. It is owned and managed by Bill Tewes, well known as one of the most "colorful" dive leaders in the industry. He knows his sport and every underwater site in and around St. Vincent - many famous for "critter dives" where you might see species rarely found anywhere else in the Caribbean. Dive St. Vincent has a great staff and guests will often find them or Bill in Young Island's bar each night. Here's a picture of me with him - apples must be good dive food, but I had a Heineken!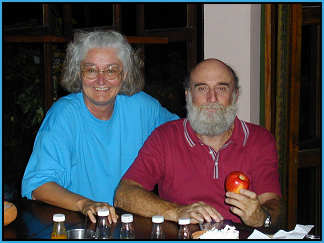 After exploring Young Island, diving or snorkeling with Dive St. Vincent, and hanging out at the "Coconut Bar", guests can take many different day trips to St. Vincent which has tropical rain forests, hikes to the volcano, boat rides to the remote Falls of Baleine, and tours of the Mesopotamia Valley with panoramic views. They can also sail to nearby Grenadine islands such as Mustique and Bequia. The resort staff will be happy to arrange these optional activities.

One of our favorite treats while staying at Young Island is to have a massage in the mini-spa located half-way up the hill (with a gorgeous view). Kathleen Harry gave one of the best we've ever had during a vacation. She's experienced in swedish as well as deep tissue massage, also reflexology and does facials, manicures, and pedicures too. Have reception arrange a relaxing massage or spa treatment with Kathleen or one of the other highly trained masseuse during your stay.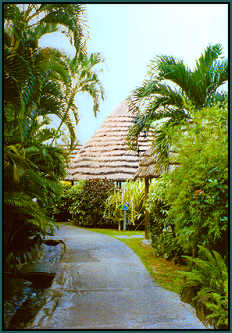 Let's talk about FOOD! Young Island has wonderful menus with lots of West Indian gourmet selections. Meals are served in a cluster of thatched huts, called Kiosks, near the bar and main lounge area. Smiling and friendly staff members provide excellent service and each course was promptly removed soon after we had finished and followed with the next. A delightful "dinner bell" is rung to signal the start of lunch and dinner.

The Caribbean cuisine is centered around locally grown fresh vegetables and fruits from St. Vincent with a large selection of meats and seafood as entrees. Lunch and dinner begins with a visit from a staff member carrying a 3' long breadboard with six loaves of freshly baked loaves - white, wheat, cinnamon (my husband's favorite), banana, raisin, and coconut (my favorite). We were often full of bread before the food ever arrived!

Breakfast is a delight and offers a full a la cart menu of fresh tropical fruit, juices, cereals, eggs, pancakes, West Indian fish, and French toast prepared the traditional way. Our favorite though is Young Island's famous flaming coconut and rum topping French Toast (don't miss ordering it!). Here's staff member Donavon preparing to light one of ours. YUM!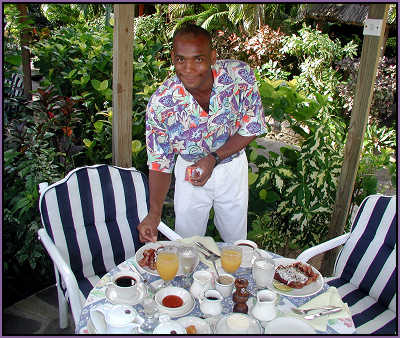 As many of you know who have enjoyed breakfast in the tropics, small birds often flutter nearby in hopes of stealing a crumb or two.

Lunch offers a selection of fresh homemade soup, salads, sandwiches, and hot entrees each day. One day we dined on a Crab Cake starter followed by Chicken strips in a mild curry sauce served on Fresh Coconut Bread and Fried Plantain.

A sumptuous 5 course dinner features an appetizer, soup, salad, entree, and dessert. Fresh fish or shrimp is always on the menu along with chicken, quail, or duck and either beef, pork, or lamb. One night we dined on Crispy Prawn Wontons resting on a Bed of Sautéed Cabbage orbited by a spiced Tomato Coulis, Freshly prepared caramelized Onion Soup laced with Brandy, Tomato, Avocado and Mozzarella Salad showered in a Basil Vinaigrette, Tempura battered fillet of Red Snapper accompanied by a Timbale of Rice drizzled with a Crab and Blue Cheese Butter Sauce, and finished with "Chocolate Pizza" – Crisp Chocolate crust topped with exotic fruit. I get hungry just thinking about it! The dinner menu changes each night and continuously provides delightful tastes of West Indian flavors.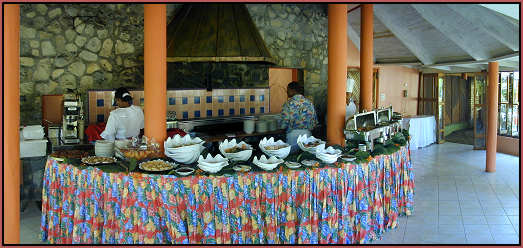 A bountiful buffet lunch and dinner are sometimes served and are a smorgasbord of fresh local ingredients. Once a week, guests gather by the pool for a special cocktail hour; another night they are treated to a special evening buffet accompanied by a festive steel drum band.